Organizational Learning & Improvement
Community Living Parry Sound is committed to reporting on successes, challenges, and lessons learned and providing a comparison of the organization's goals and outcomes to actual results.
While the surveys are closed, we are always open to hearing your feedback, comments and concerns.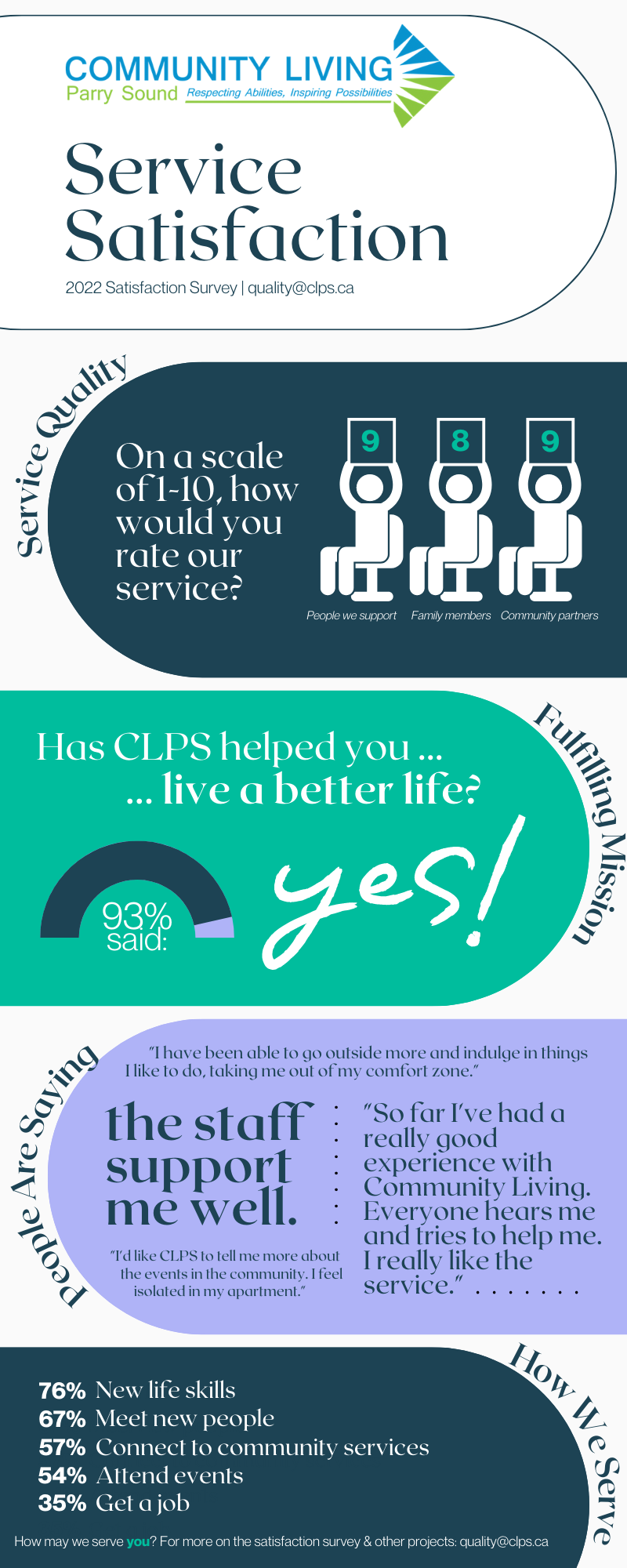 ---
---

Quality Improvement Initiatives
Quality Assurance is a planned process to ensure that the quality of services provided enhances the quality of life for the people that we support.
Quality is determined by the people using our services, the values of our organization, and the legislated standards of service. Therefore our services must be knowledgeable of what people want, must be deeply rooted in the values of the organization, and must be knowledgeable about legislative requirements.
Quality Assurance is a process of defining, measuring, and improving quality. The process begins by determining what areas, through measurement, require enhancement and increased responsiveness of service. Quality Assurance determines, suggests, and may execute the necessary training, process, or planning required in achieving the defined quality.
Quality Assurance ensures accountability to the values of the organization and uses the ABCs of Enhancing a Person's Life;
Ask the people/families what they want
Be responsive to their goals
Check to see if people/families are still getting what they want
Quality Assurance Means…
Staff in the organization have a clear understanding of who the person really is
Having a long-term commitment to each person's well being
Meeting the fundamental needs of people
Assisting people in personal growth and development as well as their personal lifestyle interests
Assuring personal empowerment so that people are enabled to act of their own free will instead of being dependent upon the influence of others
People exercise control over their lives
Supporting people to find themselves
Supporting people to have valued roles
Safeguarding individual vulnerabilities
Promoting the use of natural supports in meeting personal needs
Promoting the use of generic services
Promoting personal memberships in community groups
Helping people find meaning in life
CLPS Plain Language Policy & Procedure Manual